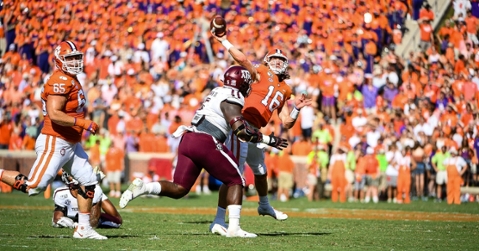 Photo by Tigernet
The Tigers weren't dominant in the 24-10 win over Texas A&M on Saturday, but they also weren't seriously challenged in a game that was supposed to be the most challenging on the schedule.
Clemson's defense held the Aggies to just 289 yards of offense. Meanwhile, quarterback
Trevor Lawrence
was 24-for-35 for 268 yards and a touchdown.
Next up for the Tigers is Syracuse. The Orangemen were supposed to be a challenge for Clemson, but they looked awful in a
shocking 63-20 loss to Maryland
on Saturday.
GAME COVERAGE:
Anderson Independent Mail
,
Shakin' the Southland
.
OWNING THE SEC:
The Tigers are
9-1 against the nation's top conference
since 2016.
STILL NO. 1:
Clemson holds on to the No. 1 position
in all major polls, including AP.